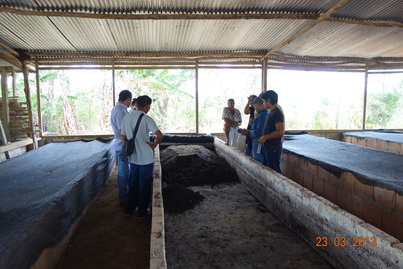 LandTrees Vermiculture

Lombricultura LandTrees
---
ABOVE VERMICULTURE VIDEOS

NEXT COURSE VERMICULTURE
to be advised...!




Location:
LandTrees Farm at Feuillet, La Chorrera




ARRIBA VIDEOS LOMBRICULTURA

PROXIMO CURSO LOMBRICULTURA
se informara en breve...!


Donde:


LandTrees en Feuillet, La Chorrera

Bamboo Guadua


(LandTrees)






Seminar Bamboo House:


During the Bamboo Seminar (18th-23rd March 2013) participants will learn how to construct a Bamboo House (size: 700 sq. feet expandable to 900 sq. feet). Here we prepare some of the material that will be used.....




Prefabricated Bamboo House (made by Heinz Loosli)


(Casa prefabricada de Heinz Loosli)



Video Vermiculture 09th February 2013

(Video Lombricultura del 9 de Febrero 2013)



Video La Chorrera Fair Vermiculture set-up




(Lombricultura en la Feria de La Chorrera)





The following link contains information and Videos about building with Dirt. The Embarra Community in Panama get together once a year to celebrate. During the festivities the residents build such structures called "Casas Quinchas".
http://www.educapanama.edu.pa/pagina/video-casa-de-quincha
ABOVE IS THE LINK TO SEE THIS AMAZING EVENT AND BUILDING PROCESS:

NATURAL THATCH ROOFS

| | |
| --- | --- |
| This is the inner view of our "Majestic Dome" Thatch roof. The Thatch Roof was placed over the 3rd floor of this Dome. The roof is about 75% completed. The material for the roof came from a remote area about 1 hour away. It had to be collected and transported. Cost of the material was USD 75.00. It should last for over 10 years without maintenance. | |


OUR ADOBE BRICK FIELD TESTING
These two larger ADOBE's, a.k.a. SUPERADOBE's, where compacted in earthbags. After curing the earthbags where removed and the surface was slit in a straight line to about 1/2" depth for the water test. Even after 72 hour exposed to strong splashing water these Larger Adobe's

did not

show significant signs of deteoriation.